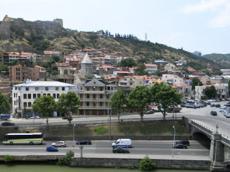 The "Georgian Dream" ruling coalition with 45.92 percent was in the lead in vote-counting at 98 percent of polling stations during the elections to the Tbilisi City Council.
The opposition United National Movement with 26.18 percent ranks second, the Georgian CEC reported.
The parties and blocs that could overcome a 4% barrier, namely, "Nino Burjanadze - United Georgia" bloc - 10.51 percent, "Alliance of Georgian Patriots" - 6.3 percent passed to the City Council.
There will be 50 deputies (25 on majority lists and 25 by proportional) in majoritarian elections in Tbilisi City Council. The ruling party got 24 of 25 seats, while independent MP - 1 seat.

/Trend/