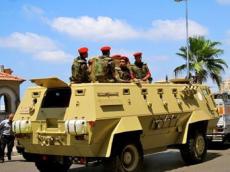 The Iraqi city of Samarra, located 132 km from Baghdad, has entirely fallen under control of the militants of terrorist group known as Islamic State in Iraq and the Levant (ISIL), TRT Haber TV channel said on June 13.
This is the third city in Iraq, which is completely controlled by the ISIL militants. Earlier, the ISIL captured the cities of Mosul and Tikrit.
Reportedly, despite the fact that Kirkuk is controlled by Peshmerga (special forces, subordinate to the Kurdish administration), the fights are continuing in several residential areas in northern Iraq between Peshmerga and the ISIL.
On June 10, the ISIL militants captured the administrative center of the Mosul of the northern Iraqi Province of Ninawa, a number of small settlements, as well as part of the Salah al Din Province, including its center - the city of Tikrit.
Iraqi army completely retreated from the city of Samarra.

/Trend/