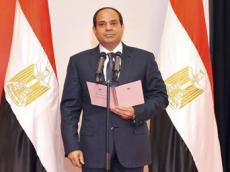 The U.S. President Barack Obama has congratulated Egyptian President Abdel Fattah al-Sisi on his inauguration as president, White House said in a statement Tuesday, Anadolu agency reported.
Obama told Sisi that Washington was looking forward to working with the Egyptian government to advance the shared interests of both countries, according to the statement.
"The president reiterated the United States' continuing support for the political, economic, and social aspirations of the Egyptian people, and respect for their universal rights," the statement added.
Sisi - who led the army's ouster last summer of elected President Mohamed Morsi - won last month's presidential polls by a landslide victory, securing almost 97 percent of the vote.

/Trend/