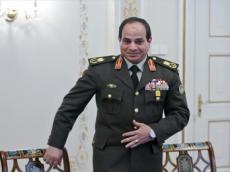 In what seemed to be a diplomatic snub, Cairo's most important Western allies plan to send low-level representatives to Abdel Fattah al-Sisi's presidential inauguration, Reuters reported officials as saying.
The government that Sisi installed after he removed the Muslim Brotherhood from power last July has been accused of widespread human rights abuses against the Islamist movement as well as secular activists, Al Arabiya reported.
A senior State Department official will represent the United States at Sunday's inauguration of the new Egyptian president, but in a sign of U.S. unease, no cabinet-level ministers will attend, Agence France-Presse reported.
The U.S. delegation to the swearing-in of Sisi will be led by State Department counselor Thomas Shannon, a senior advisor to Secretary of State John Kerry, a U.S. official said Thursday.
"The United States looks forward to working with president-elect al-Sisi in Egypt and his government to advance our strategic partnership and many shared interests," AFP quoted State Department deputy spokeswoman Marie Harf as saying.
But she acknowledged to reporters that the U.S. administration was not yet "satisfied" with the progress made in returning to democracy in Egypt.
Meanwhile, a Western diplomatic source said European states would be represented by ambassadors, Reuters reported.
"It was a collective decision," said the source, adding that the move highlighted concerns over the political transition.
The EU said in a statement on Thursday that it was concerned with the continued detention of political opponents, activists and journalists.
While Western countries have voiced concerns over alleged human rights abuses, they have not taken any strong measures to pressure Cairo.
Islamist President Mohammad Mursi's removal in July has led to tense relations between Egypt and nearby states Turkey and Qatar. Turkish foreign ministry officials said the country would be represented by its charge d'affaires in Cairo.
New law for legislative polls
Meanwhile, Interim President Adly Mansour on Thursday passed a law for parliamentary elections guaranteeing at least 12 percent of seats to women and four percent to Egypt's minority Christians, AFP reported.
The legislative polls will be the final stage of a "roadmap" to democracy announced by Sisi.
He unveiled the roadmap after deposing Mursi.
The presidency, in a statement, said that under the law passed by Mansour, who has the power to legislate in the absence of parliament which has been dissolved, the house will be made up of 567 members, of whom 540 will be elected and the rest named by the president.
Twenty-four seats will be reserved for Coptic Christians and 70 for women, in keeping with Egypt's constitution, the president's office said.
It said the law would allow the electoral commission to set a date for legislative elections.

/Trend/