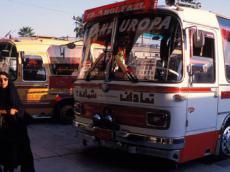 A bus will operate between Ardabil and Baku, Deputy Chairman of the Ardabil province office of the Iranian Cultural Heritage, Handicrafts and Tourism Organization Gadir Taghizadeh said, the Iranian news IRNA reported on June 2.
"The buses will leave from Ardabil on Tuesdays, Thursdays and Sundays, and from Baku - on Mondays, Wednesdays and Saturdays," he added.
Taghizadeh also added that in the future, if necessary, the number of buses and trips can be increased.
"Some 49.4 percent of Azerbaijani citizens traveling to Iran go for treatment, 34.5 percent - for tourism, 9.7 percent - for trade, 4.7 percent - to visit relatives," he added.
There is no information about the exact date of initiating the bus service between the cities.

/Trend/