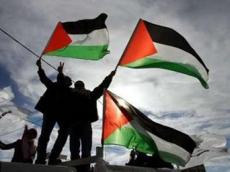 A last-minute dispute has erupted between Hamas and Fatah over the makeup of the Palestinian unity government meant to end the factions' seven-year political split, The Daily Star reported.
Palestinian President Mahmoud Abbas, the leader of Fatah, has announced plans to swear in a government of technocrats backed by both factions on Monday.
But Hamas officials say they oppose the Cabinet lineup in its current form because Abbas has removed the position of minister for prisoner affairs.
Sami Abu Zuhri, a Hamas spokesman, says the militant group is not going to accept a government without such a minister and that it's their "final decision."
It's unclear if Hamas would derail a unity deal over the issue.
Hamas which seized Gaza from Abbas in 2007 is in a financial crisis and need the new alliance.

/Trend/