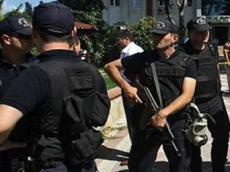 The police have conducted special operation in the Istanbul city of Turkey, the country's Sabah newspaper reported on May 26.
As part of the special operation, Turkish police carried out raids on a number of addresses in Istanbul early in the morning on May 26.
The police helicopters conducted air patrol in Istanbul.
No information has been provided about the reasons of carrying out the special operation.
Over 25 people, including women, were detained as a result of the special operation.
A part of the police forces operated near the Okmeydani Square of Istanbul, where previously protest actions were held.
Protests resumed in Turkish city of Istanbul on May 23, when a group of forty people gathered in the Okmeydani Square and started throwing stones at the police.
Previously on May 22, about 20 people held a protest in Istanbul over the death of miners in the Manisa Province.
Two people were killed during these protests.
Earlier, an explosion took place in a mine in the Soma city of Turkey's Manisa Province, killing 301 and injuring 486.

/Trend/