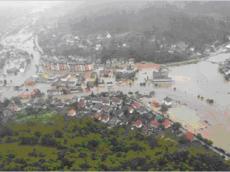 By Gulchin Huseynli
Serbia declared a national emergency as rain-swollen rivers across the Balkans flooded roads and bridges, shutting down schools and cutting off power. Authorities in Belgrade said the average rainfall of a two-month period hit the city in just 40 hours. River levels rose all over Bosnia, including the capital Sarajevo and Maglaj, a town 60 miles north of the capital, was cut off by water surging into streets. The rain was expected to keep until the last weekend.
Serbian Prime Minister Aleksandar Vucic says deluge is of a kind 'not seen in a thousand years' and warns that toll is likely to rise. Thousands of people crammed into boats and army trucks fled their homes in Serbia and Bosnia on Sunday after record rainfall turned the Sava river into a deadly torrent and caused the worst floods in more than a century.
According to officials in both countries, the disaster has killed at least 43 people. Some towns have completely been cut off and rescue teams feared the worst as improving weather allowed them to move in.
Some 10,000 people have been evacuated so far from the worst affected areas of northern Bosnia. In the town of Samac, hundreds of stranded residents were waiting to be rescued.
Bosnia's demining agency said residents around the towns of Doboj, Maglaj and Olovo - which saw fierce fighting during the war in the 1990s - should be particularly wary.
Twenty of the 27 deaths recorded in Bosnia occurred in Doboj while on the other side of the Sava river, in Serbia, at least 16 bodies were found.
"Unfortunately there are estimates that the death toll will be higher," Serbian Prime Minister Aleksandar Vucic said.
12 of those bodies were found in Obrenovac, site of the coal-fired Nikola Tesla power plant, Serbia's biggest, which the floods threatened to inundate.
In the Serbian capital Belgrade, dozens of schools and sport centres were turned into shelters for the thousands of evacuees plucked the disaster zones by boats, buses and helicopters.
Thousands of volunteers worked through the night to stack sandbags along the banks of the Sava river in the city, expecting a "flooding wave".
Bank accounts to receive donations have been launched in both countries.