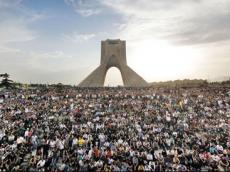 Iran's population is 77.4 million people, and by the end of the year (Iranian year ends on March 21), this figure can reach 77, 856,000 people, according to the report of the Statistical Centre Of Iran.
Iran`s population will reach 80 million people by 2016, according to estimates, Iranian ISNA news agency reported.
Some 51 percent of Iranians are males, and 49 - females. The 15-64 year group of people in Iran make up for 70 percent of the whole population.

/Trend/