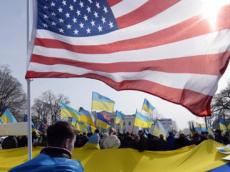 The White House says the United States is sanctioning seven Russian government officials and 17 companies,
APA
reports quoting RIA Novosti. White House press secretary Jay Carney said that the sanctions slapped over annexation of Crimea and actions in Ukraine heightened by Moscow: "Russia has done noting to observe Geneva agreements since April 17, but it heightened the crisis".
Carney stated that it's doubtless that Russia participates in the violence in the east of Ukraine: "Today, America slaps sanctions on several Russian citizens and companies, as well as makes difficult granting license for export of goods from the US to Russia. Ministry of Finance slaps sanctions on 7 Russian officials, including two members of Putin's inner circle. Their assets will be frozen and they will not be able to obtain the US visa. These sanctions are also slapped on 17 companies".
Russia will not be able to purchase products from the US for its military industry.
The list includes:
Deputy Prime Minister Dmitry Kozak

Deputy head of the Kremlin administration Vyacheslav Volodin

Russian Presidential Envoy to Crimea Oleg Belaventsev

Director of Russia's Federal Protective Service and an army general Evgeny Murov

The chairman of the Russian State Duma Foreign Affairs Committee Alexey Pushkov

Rosneft CEO Igor Sechin

CEO of Russian Technologies (Rostekhnologii) State Corporation Sergei Chemezov

Akvanika LLC

Avia Qroup LLC

Avia Group Nord LLC

Zest CJSC

InvestCapitalBank

Sobinbank

Sakhatrans

SMP bank

Stroygazmontazh

Stroytransgaz

Stroytransgaz-M

Investment company Abros

Transoil

Volga Group