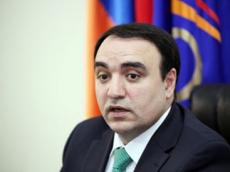 Armenian National Security Council's Secretary Arthur Baghdasaryan told journalists on April 25 that he is leaving his post, Novosti-Armenia reported.
"This is an analyzed and reasoned decision," Baghdasaryan said.
Baghdasaryan also heads the Armenian Rule of Law party, which was included into the ruling coalition between 2007 and 2014.
Following a meeting of political council on April 16, the Rule of Law party said that its participation in the new Armenian government is problematic and inappropriate.
"The statement of our political council clearly outlines the reasons for leaving the coalition," Baghdasaryan said.
In particular, he said, the Rule of Law party failed to fulfill its tasks in the coalition, over these years the party did not participate in discussions regarding the prime ministers candidacies; it could not achieve the adoption of fundamental laws in the parliament.
On April 13, Armenian President Serzh Sargsyan appointed the parliament's speaker Hovik Abrahamian the country's prime minister, instead of Tigran Sargsyan who left the position on April 3.
The new government of Armenia should be formed within twenty days after the prime minister's appointment, according to Armenia's constitution.

/Trend/