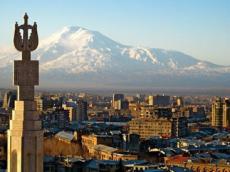 By AzerNews
The appointment of the new prime minister in Armenia has sparked mixed reactions in the country which is seeking its economic survival.
Although Armenia's ruling Republican Party believes that newly appointed Premier Ovik Abramyan will take long progressive steps, public opinion is doubtful. Local media say Abramyan's appointment as a prime minister will hinder the country's progress.
Abramyan has already faced several protests before he has time to do something for the nation's progress.
The homeless in Yerevan, who have been seeking for a roof over their heads in the past six years, attacked Abramyan as he came to the ruling party's office for a meeting on April 17.
"You live as a Pharaoh, while we are perishing," tearful protesters chanted.
Abramyan has promised to meet the protesters within next two days. Armenians used to hear empty promises from the officials. Now Abramyan's promises seem to be empty one too. Now the protesters are wondering if he will be able to receive them, as one of the dating matches a non-working day - Saturday.
Fed up with the government's empty promises Armenia's citizens see emigration as the only way to escape their miserable situation. Hopeless citizens use any procedure to get Russian citizenship, leaving Armenia face to face with a new threat. The main target country for Armenian immigrants is Russia, which is a final destination for 95-96 percent of the immigrants.
The Russian State Duma adopted an amended law on citizenship which simplifies the process of getting Russian citizenship by Russian-speaking compatriots.
The government has recognized that a simplified procedure for getting Russian citizenship will be a threat for the country.
"The procedure will certainly have negative impact on Armenia. This is a fact, which will promote emigration," Head of the State Migration Service Gagik Eganyan told journalists.
Armenia is still not able to stop mass immigration, which has attained 30,000-35,000 people per year in the period from 2008 to 2013.
Abramyan recently said that providing Armenians with a dignified life will be a priority of the new government, as most people today live in poverty. Armenians still hope for progress in the country as hope dies at last.