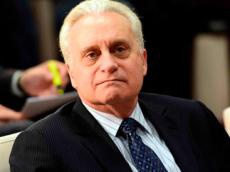 U.S. Ambassador to Turkey Francis Ricciardone and Turkish ruling Justice and Development Party's Deputy Head Mehmet Ali Sahin discussed the resolution on the so-called Armenian genocide adopted by U.S. Senate Committee on Foreign Relations.
During the meeting the parties also discussed the Turkish-American relations, according to the Turkish TRT Haber TV channel.
This is the U.S. ambassador's first visit to the ruling party's headquarters in the last 10 months, according to the report.
Earlier the U.S. Senate Committee on Foreign Relations adopted a resolution on the "Armenian genocide".
Every year on April 24, Armenia marks the Day of Remembrance of the "Armenian genocide" victims. Armenia and the Armenian lobby claim that Turkey's predecessor the Ottoman Empire allegedly carried out "genocide" against the Armenians living in Anatolia in 1915.
While strengthening the efforts to promote the so-called "genocide" in the world, Armenians have achieved its recognition by the parliaments of some countries.
It is expected that in April the Armenian lobby will strengthen its activity in the world countries' parliaments, particularly in the U.S. Congress with regard to the anniversary of the "genocide".

/Trend/