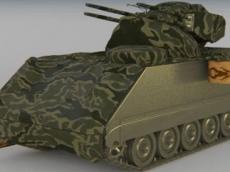 A Turkish R&D firm has developed a "disguise network" for military purposes reportedly more capable than its equivalents produced in the United States and Israel.
The global market for anti-radar materials for military vehicles, including tanks, popularly known as "invisibility cloaks," reached billions of dollars in volume in the recent years.
Ümit Öztürk, an official from the Turkish firm, has said the "disguise network" can significantly reduce an object's radar cross-section in specific radar frequencies. Besides its radar-avoiding capabilities, Ozturk explained, the material also decreases the object's visual, infrared and thermal marks.
The Scientific and Technological Research Council of Turkey (TUBITAK), the country's scientific watchdog, has tested the product and approved that its anti-radar capabilities are better than its counterparts elsewhere in the world.
"Current anti-radar paints produced in Israel and the U.S. are heavy and can easily be damaged in harsh weather," Ozturk said. "Our composite bodies are lighter and resistant to all weather conditions," he continued.
Ozturk also told Turkish Aerospace Industries (TUSAS) reacted positively after initial tests regarding the usage of the new product on Turkey's nationally-produced military drone, ANKA. "We have also informed the Ministry of Defense," he added, saying their efforts are continuing to set up a factory for mass production.

/HurriyetDailynews/