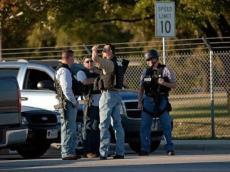 A shooting took place at the U.S. Army base of Fort Hood in Texas Wednesday, leaving at least one killed and 14 others injured, U.S. media reported.
"There has been a shooting at Fort Hood and injuries are reported. Emergency crews are on the scene. No further details are known at this time," the post said in a brief statement issued Wednesday afternoon.
Earlier Fort Hood has ordered everyone at the Texas Army base to "shelter in place." The order was sent on the base's Twitter feed and posted on its Facebook page.
A post spokesman told local TV KWTX, a Columbia Broadcasting System (CBS) affiliate serving central Texas, that one person was killed in the shooting, but he didn't say how many others were injured, Xinhua reported.
A source who declined to be named told KWTX that as many as 14 others were wounded.
Multiple reports, quoting anonymous sources, said the shooter is still at large and is hiding in a medical building inside the military installation. KWTX, quoting an unnamed source, said there were two gunmen and one was in custody, but there was no immediate confirmation.
Some sources told the media earlier that warning sirens sounded at the military base and there appeared to be a standoff between the shooter and authorities.
A police helicopter was seen hovering over a car on the post, but it's not clear whether the vehicle was related to the shooting.
As of Wednesday evening, the post remained on lockdown as authorities investigate. A college campus and a hospital near Fort Hood were also placed on lockdown as a precaution.
Fort Hood is the scene of a shooting rampage on Nov. 5, 2009, when Nidal Malik Hasan, an Army psychiatrist, opened fire at a soldier readiness center on the base. The shooting left 13 people dead and more than 30 others wounded. It is the worst shooting ever to take place on an American military base.

/Trend/