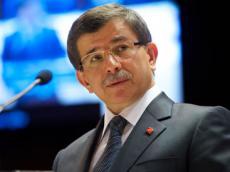 Turkey's foreign minister has defended blocking access to video-sharing website Youtube, Anadolu agency reported.
Every country takes measures concerning its national security if it is at risk, Davutoglu said Tuesday in Brussels, where he attended a summit meeting of NATO foreign ministers.
Youtube block came after a top security meeting of Turkish officials appeared on the website. Turkish authorities had earlier blocked access to Twitter to prevent the spread of potentially damaging wiretapping leaks.
"Every country across the world protects the rights of its citizens and takes measures in matters relating to national security," Davutoglu said.
A video that appeared on Youtube last Thursday showed that a high level security meeting between Foreign Minister Davutoglu, intelligence chief Hakan Fidan and the armed forces' second commander Yasar Guler was spied on while they were discussing possible threats to the Turkish territory in Aleppo, Syria.
During his Brussels visit, Davutoglu met U.S. Secretary of State John Kerry and U.K. Foreign Secretary William Hague and talks touched on the 40-year-old Cyprus dispute between the Turkish and Greek Cypriots.
Davutoglu praised the U.S.'s contributions towards finding a solution, but said Turkey would want more U.K. involvement.
"We want to accelerate the negotiation process," he said. "The recent momentum is relatively positive, however it needs to be result-oriented."
The island of Cyprus has been divided into Greek and Turkish sides since a Greek Cypriot coup preceded a Turkish peace mission to aid Turkish Cypriots in the north in 1974.
The Greek Cypriot administration is a member of the European Union and recognized by all internationally, except Turkey.
In February, Turkish Cypriot and Greek Cypriot announced commitment to a unified Cyprus after negotiations.

/Trend/