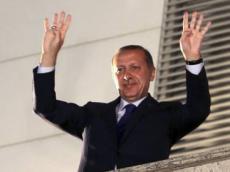 Russian President Vladimir Putin and the Prime Minister of Pakistan Nawaz Sharif are among those who have congratulated Turkey's Prime Minister and AK Party leader Recep Tayyip Erdogan on his party's triumphs in Sunday's local elections, Anadolu Agency reported.
Putin telephoned Erdogan on Monday following the AK Party's successes, according to Turkish officials.
Bakir Izetbegovic, the Bosniak representative to Bosnia and Herzegovina's tripartite presidency said the Justice and Development (AK) Party's win was "a magnificent victory" in an official message sent to Erdogan.
"We follow the AK Party's election races, as if our Party of Democratic Action (SDA) was the one taking part in the election," said Izetbegovic. "We enjoy Turkey's successes as our own."
Azerbaijani President Ilham Aliyev and the Turkish Republic of Northern Cyprus President Dervis Eroglu also made phone calls to Erdogan to congratulate him on the AK Party's achievements in Sunday's local elections, according to prime ministry sources.

/Trend/