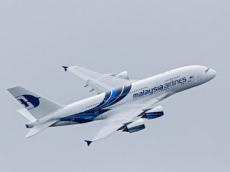 Investigators examining the March 8 disappearance of a Malaysia Airlines plane with 239 people aboard believe it most likely that the plane flew into the southern Indian Ocean, a source close to the investigation said on Wednesday, Reuters reported.
"The working assumption is that it went south, and furthermore that it went to the southern end of that corridor," said the source, referring to a search area stretching from west of Indonesia to the Indian Ocean west of Australia.
The Boeing 777 of Malaysia Airlines, flying from Kuala Lumpur to Beijing disappeared from the air traffic control radar on the night of March 8, 2014. Some 227 passengers and 12 crew members were on the board.

/Trend/