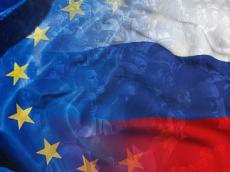 European Union foreign ministers will agree sanctions on around 20 people in Russia and Crimea on Monday, ministers and officials said, with the possibility of adding further names to the list when EU leaders meet later in the week, Reuters reported.
Those targeted in the first phase will include politicians responsible for calling for and organizing Sunday's referendum in Crimea, when 97 percent of voters decided to secede from Ukraine and join Russia. The EU says the referendum was illegal and does not recognize the result.
"We are talking approximately about 20 people," Czech Foreign Minister Lubomir Zaoralek told reporters, saying the list was focused on "political individuals" behind events in Crimea, not on business people.
"This is to be the first set and I would not rule out that this list can be widened at the next meeting of the Council," he said, referring to the EU summit on Thursday and Friday.
European officials have said they are determined to hit Russia for its actions in Crimea, imposing sanctions including travel bans and asset freezes on those responsible. The United States is expected to take similar steps on Monday.
However, EU sanctions require unanimity among all 28 member states and there are several countries, including Greece, Cyprus, Italy, Spain and Portugal, that have reservations about moving too quickly.
As a result, Monday's move is not expected to be as far-reaching as initially hoped. At the end of last week, the EU had drawn up a master list of 120-130 names for possible sanctions, which has now been whittled down to around 20.
There are few signs that the threat of sanctions is having an impact on the ground in Crimea or on Russia.
Officials in Crimea formally applied to join Russia on Monday and the head of the local parliament said Ukrainian military units on the peninsula would be disbanded.
Russian President Vladimir Putin will address a joint session of Russia's parliament on Crimea on Tuesday, when it is possible the secession will be formalized.
If that happens, it is likely the EU will move to the next phase of travel bans and asset freezes as soon as leaders meet on Thursday, with the expanded list of names including senior Russian political and military figures close to Putin.
Even then, it is not clear that Moscow has any intention of backing down or reversing course in Crimea, and there are indications that it could widen its influence in Russian-speaking parts of eastern Ukraine, too.
The EU has said it will further increase the sanctions pressure if that happens, including imposing much more far-reaching trade and financial restrictions on Russia, the sort of measures that the EU and United States successfully imposed on Iran.
While it would be difficult to secure unanimous agreement within the EU for such a hard-hitting step, it may also be the only measure that would force Russia to reconsider. Wide-ranging financial sanctions would deal a powerful blow to Russian exports and business, while also harming Europe.
At that point, the concern is that the EU becomes locked in a damaging spiral of escalating sanctions and retaliation from Russia, with no one comfortable with where that could lead.
"I would do anything possible to avoid sanctions because I believe everybody will suffer if we get into sanctions, but the only ones who can prevent this are the Russians," said Dutch Foreign Minister Frans Timmermans.
While steadily ratcheting up the sanctions threat, the EU is also urging Russia to negotiate, both directly with Ukraine and by allowing in observers and mediators.
In a sign that Putin may be prepared to respond to those calls, Russia on Monday backed the creation of an international "support group" to mediate the crisis.
But it said one goal of the group would have to include Ukraine recognizing Crimea's secession, which is likely to be unacceptable both to Kiev and to Europe, the United States and most of the rest of the world.
The vast majority of residents of Crimea - 96 percent - voted to secede from Ukraine and rejoin Russia, in a referendum held March 16.
With the exception of Russia most countries refused to recognize the referendum and its results.
A change of power took place in Ukraine on Feb.22.
The Verkhovna Rada (parliament) ousted President Viktor Yanukovych from the power, changed the constitution and scheduled presidential elections for May 25. Yanukovych said that he was forced to leave Ukraine under the threat of violence, and he remains the legally elected head of state. A number of provinces in eastern and southern Ukraine, as well as the Crimea did not recognize the legitimacy of the Rada and decided on possibility of holding a referendum on the future fate of the regions.

/Trend/