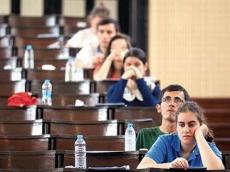 Turkish President, Abdullah Gul approved the law on closing private preparatory courses for entering universities, Turkish Anadolu agency reported on March 13.
Turkish parliament approved a draft law on closing private preparatory courses on March 1.
All private preparatory courses will be closed in Turkey from Sep.1, 2015.
The draft law was submitted to the country's parliament on Feb.7, 2014.
Earlier, Turkish Prime Minister, Recep Tayyip Erdogan made a statement over the closure of private educational institutions in the country.
"The state supported education sphere must not have private educational institutions," Erdogan said.
Some 3,640 private educational institutions were operating in Turkey in 2013, according to the Education Ministry's data. The total number of public educational institutions is 60,165.

/Trend/