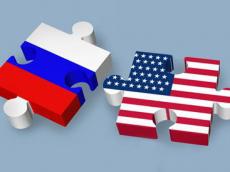 The United States and Russia will hold talks on easing East-West tension over Ukraine on Wednesday as the West steps up efforts to persuade Moscow to pull its forces back to base in Crimea and avert the risk of a war, Reuters reported.
U.S. Secretary of State John Kerry and Russian Foreign Minister Sergei Lavrov will meet face-to-face for the first time since the crisis escalated, after a conference in Paris attended by all five permanent members of the U.N. Security Council.
NATO and Russia will hold parallel talks in Brussels amid concerns that a standoff between Russian and Ukrainian soldiers in Crimea could still spark violence, or that Moscow could also intervene in Russian-speaking eastern Ukraine.
French Foreign Minister Laurent Fabius said European Union leaders meeting in Brussels on Thursday could decide on sanctions against Russia if there is no "de-escalation" by then.
President Vladimir Putin on Tuesday defended Russia's actions in Crimea, a strategic Black Sea peninsula that is part of Ukraine but used to be Russian territory, and said he would use force only as a last resort.
This eased market fears of a war over the former Soviet republic. But Russian forces remain in control of the region and Putin gave no sign of pulling servicemen, based in Crimea as part of the Black Sea Fleet, back to base.
As a result of protests in Ukraine, the country's President Viktor Yanukovych was ousted on Feb. 22. The Verkhovna Rada (parliament) has approved the new composition of the parliament and is preparing to hold pre-term elections.
On Feb. 26 several thousand people participating in two rallies gathered in front of Supreme Council of Crimea. After the escalation of the protest actions in Crimea, the Federation Council supported President Vladimir Putin's appeal regarding the use of the Russian Armed Forces in Ukraine pending "the normalization of the socio-political situation in that country".
Leaders of Canada, France, Germany, Italy, Japan, UK and the U.S., as well as chairman of the European Council and the chairman of the European Commission made a joint statement condemning Russia's position on Ukraine and canceled the preparations for the G8 summit in Sochi, scheduled for June 2014.
/Trend/