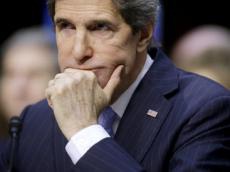 The United States said on Wednesday that Russia must respect Ukraine's territorial integrity as Moscow put combat troops on high alert for war games near its Western neighbor, Reuters reported.
White House spokesman Josh Earnest, briefing reporters as President Barack Obama flew from Washington to Minnesota, said the United States strongly supports Ukraine leaders' efforts to form an inclusive, multi-party government.
"We urge outside actors in the region to respect Ukraine's sovereignty and territorial integrity, to end provocative rhetoric and actions, to support democratically established transitional governing structures and to use their influence in support of unity, peace and an inclusive path forward," Earnest said.
In a television interview, U.S. Secretary of State John Kerry also made clear the United States does not want Russia to intervene in Ukraine's affairs after its ally Viktor Yanukovich was toppled as president in Kiev.
"We're hoping that Russia will not see this as sort of a continuation of the Cold War," Kerry told MSNBC's "Andrea Mitchell Reports" show.
"We do not believe this should be an East-West, Russia-United States (issue). This is not 'Rocky IV,'" he said in a reference to a 1985 film pitting U.S. boxer Rocky Balboa played by Sylvester Stallone against a Soviet portrayed by Dolph Lundgren.
Russian President Vladimir Putin put 150,000 combat troops on high alert for war games near Ukraine on Wednesday, the Kremlin's boldest gesture yet after days of sabre rattling since Yanukovich's ouster.
The statement read by Earnest did not mention Russia by name but said Washington wanted to "remind all governments of their political commitments to transparency about military activities under ... international obligations designed to ensure peace and security in the Euro-Atlantic region."
Kerry said Russia should respect the Ukrainian people's desire for change and that they should not have to choose between relations with Europe and the United States on one hand and Russia on the other.
"Russia needs to be very careful in the judgments that it makes going forward here," he said.
"We are not looking for confrontation but we are making it clear that every country should respect the territorial integrity ... of Ukraine. Russia has said it will do that and we think it's important that Russia keeps its word."

/Trend/