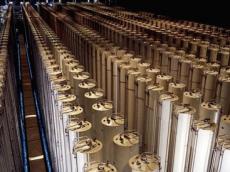 Iran has no plans to reduce the number of its centrifuges and will not shut Arak heavy water facility or fordow site, head of Research Center of Iran's Expediency Council, Ali-Akbar Velayati said, Iranian IRNA news agency reported on Feb. 24.
Velayati made the remarks during a joint press conference with visiting director general of Japan Institute of International Affairs, Yoshiji Nogami, on Feb. 24.
Iran will go ahead with its negotiations with the West but at the same time insists on its nuclear rights Velayati, who is an advisor to Supreme Leader Ayatollah Ali Khamenei on international affairs said.
He also hailed the conduct of nuclear talks by Iranian negotiating team.
Through efforts of Foreign Minister Mohammad Javad Zarif and his colleagues, the talks have reached a satisfactory point, Velayati said, adding, Iran has made no changes in its stands since the beginning of negotiations and the negotiating team is working within the frameworks of the Supreme Leader's guidelines.

/Trend/