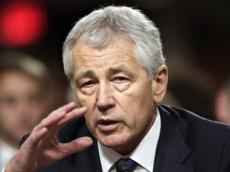 US Defense Secretary Chuck Hagel is expected to propose reducing the US Army to its smallest size since before World War Two on Monday, Daily Mail reported.
Hagel's proposal is expected to feature a scheduled drop of troops from 570,000 post-9/11 to between 440,000 and 450,000, according to a piece in The New York Times. This would be the smallest army since 1940.
It says that the expected proposal is based around both spending concerns - as well as President Obama's promises to end two different long-term military campaigns.
The changes, however, are expected to come with a possibly steep cost. Officials told the paper that budget cuts could mean higher casualties and a longer time for success if the US army had to handle two campaigns again.
Under the changes, the US army would be able to defeat any enemy but would be too small for long-term foreign occupation.
Hagel is also expected to propose the elimination of Air Force A-10 attack aircraft, according to paper. The budget, however, reportedly will have money for the F-35 warplane.
Despite the plane's reported support from the Joint Chiefs of Staff, both Congress members and the National Guard Association are expected to attack Hagel's proposed changes, the paper says. It also suggests that both state governors and those with an interest in Navy shipbuilding may voice their concerns.
Hagel's new budget, however, is expected to protect money for both Special Ops forces and cyberwarfare, the Times said. The US Army will be 'capable' and 'trained,' an anonymous source said to the paper.
The Wall Street Journal also reported that the proposal is expected to reduce housing allowances, increase health-care premiums, and limit pay raises.
CBS News adds that it will also suggest slashing subsidies for groceries to veterans, service members and their families.

/Trend/