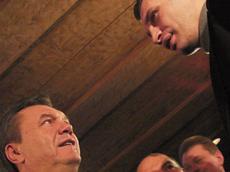 Ukraine's President, Viktor Yanukovych has announced a truce with the opposition, according to a statement issued by the President's office on Wednesday, Anadolu Agency reported.
The statement said that the negotiations would be launched to 'end the bloodshed' and to 'stabilize the situation', which has been div?ding the capital Kiev for three months.
The statement comes hours after the US, Germany and France threatened to impose sanctions on the country if the violence continued.
At least 26 people, including 12 police officers and one journalist, are reported dead following clashes between security forces and opposition groups over the last two days in Kiev.
Following several days of relative calm last week in 3-month protests, violence broke out on Tuesday when police stormed the camp in the square using tear gas, rubber bullets, stun and smoke grenades.

/Trend/