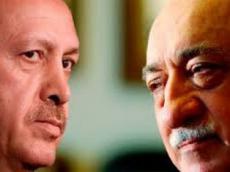 Turkish Prime Minister Recep Tayyip Erdogan has criticized the activities of social activist Fatullah Gulen's movement, who currently lives in the U.S., and called the movement as a parallel structure, TRT Haber TV channel reported on Feb.11.
The parallel structure (Fatullah Gulen's movement) blackmails all political forces in the country, including the opposition, according to Erdogan.
The prime minister also stressed that the purpose of this movement is to penetrate all the structures and state agencies.
"The parallel structure makes every effort to implement its insidious purposes in the country," Erdogan said.
This structure has ties in law enforcement agencies of the country, according to the prime minister.
Erdogan pointed out that Turkey is not a previous country which can be controlled by using blackmail.

/Trend/