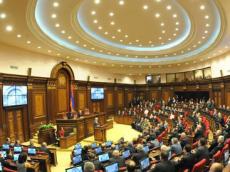 The consolidation of four parliamentary forces not involved in the ruling coalition is the only possible way to take the country out of the current situation, head of the parliamentary fraction of the "Heritage" party Ruben Akopyan announced at the briefing on Feb. 7 according to the site news.am.
In Akopyan's opinion, if the authorities do not realize the importance of the situation in the country, then "Heritage", Dashnaktsutyun, the Armenian National Congress and "Prosperous Armenia" will realize it.
"If the four political forces continue the consolidation, then it will be possible to change the power and take the country out of this difficult situation," Akopyan noted.
In reply to the question about whether all the four parliamentary political forces, especially "Prosperous Armenia", really want a change of power, Akopyan noted that he did not want to speak for the others. "The "Heritage" party is ready for wide consolidation, and if the other authorities support change of the power, then we will join," he concluded.

/Trend/