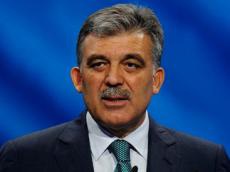 Turkey's president has urged the European Union (EU) to speed up the negotiation process over Turkey's accession after joint talks with his Italian counterpart on Wednesday in Rome, Anadolu Agency reported.
Speaking to media after the meeting, Abdullah Gul said that Turkey's EU bid was the core issue.
Italian President Giorgio Napolitano said Turkey's place was in the EU with a strong economy, where it could supplement the "Euro-Mediterranean" region.
"As we run the EU presidency in the next 6-month term, we want to revive the negotiations and the process" said Napolitano.
Citing Italy's strong support for Turkey's accession, Gul said Turkey was thankful to Italy and confident that the support would last.
Gul referred to Italy as its fourth biggest trading partner and said trade volume has reached nearly $20 billion and the two countries maintain "great potential".
"There are obviously political obstacles ahead of Turkey's road to the EU," he said. "If those are removed, Turkey and the EU will display a great cooperation"
French President Francois Hollande visited Turkey on Tuesday, after which he said he was ready to open new chapters, particularly regarding the judicial regulations and a referendum on Turkey's bid.
"We broadly talked with Hollande over these issues during his visit... Everyone is aware that France's attitude towards Turkey's EU bid shifted in favor of us," Gul said Wednesday.

/Trend/