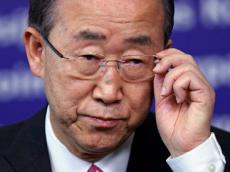 "Intensive and urgent" discussions are under way over this week's Syria peace talks, UN Secretary General Ban Ki-moon says, following the opposition's threat to pull out if he doesn't rescind his invitation to Iran, dpa reported.
"I will have more to say about the situation later in the day," Ban tells the UN Security Council. Without expanding on the problems, he said, "You will be aware of the latest developments concerning the Geneva conference on Syria."
"For the moment, let me just appeal again for all involved to keep the needs of the Syrian people foremost in mind."

/Trend/