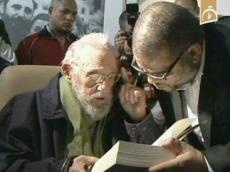 Fidel Castro, leader of the Cuban Revolution and the island's former president, was seen in public for the first time in nine months, Cuban media reported Thursday, dpa reported.
Castro, 87, attended the opening of an art centre late Wednesday in Havana, the Cuban Communist Party daily Granma reported.
The pro-government website Cubadebate published a photo that shows Castro's back as he sat during the event and pointed his finger at an art installation.
Cuba on Wednesday celebrated the 55th anniversary of Castro's triumphant entrance into Havana after his revolution ousted dictator Fulgencio Batista.
Castro stepped down from power for health reasons in mid-2006. His brother Raul took over the presidency.
Fidel Castro had not been seen in public since April, but in recent weeks, Cuban media has shown photos of him at home, hosting Venezuelan President Nicolas Maduro and French-Spanish intellectual Ignacio Ramonet. Castro also published an article in tribute to the late South African leader Nelson Mandela, who died in December.

/Trend/