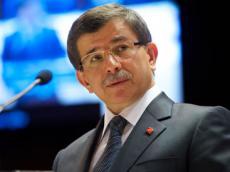 Turkish Foreign Minister Ahmet Davutoglu says his country supports the presence of the Islamic Republic in the forthcoming talks aimed at finding a political solution to the crisis in Syria, PressTV reported.
"We support Iran to attend the Geneva II conference," Davutoglu said in an interview with Turkey's official news agency, Anadolu, on Thursday.
Also on Thursday, Russian President Vladimir Putin stressed that Iran should be invited to the upcoming Syria talks, rejecting preconditions for Iran's involvement in the event as "unconstructive."
On Wednesday, German Foreign Minister Frank-Walter Steinmeier called for Iran's participation in the conference, stating that international mediators should try to involve Syria's neighbors, including Iran.
On Tuesday, Iranian Foreign Minister Mohammad Javad Zarif stressed the country's key role "in the settlement of regional problems including the Syria issue," adding that Tehran "will spare no effort to solve the crisis in Syria."
But he pointed out that Iran will never agree to any precondition for its presence in the Geneva II conference. "In case of an official call to help resolve the crisis, we are prepared to officially and fully attend the meeting," he added.
The conference is scheduled to be held in Switzerland in two parts. On January 22, the opening session of the event will be in the Swiss city of Montreux and then it will be moved to the UN office in Geneva on January 24.
Syria has been gripped by deadly crisis since 2011. According to reports, the Western powers and their regional allies - especially Qatar, Saudi Arabia, and Turkey - are supporting the militants operating inside the country.
According to the United Nations, more than 100,000 people have been killed and millions displaced due to the turmoil that has gripped Syria for over two years.

/Trend/