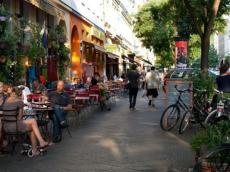 German government intends the summer of 2014 to develop methods to combat possible abuses that may make foreigners in obtaining poverty benefits. According to the decision adopted on Wednesday, January 8, a special commission consisting of representatives of almost all ministries and the Commissioner for Migration, to the end of June should give the report.
Germany's population increased in 2013, it grows the third consecutive year thanks to migrants, reports Deutsche Welle . According to preliminary data Destatis - Federal Statistical Office, Germany's population in 2013 increased to 80.8 million (in 2012 the number was 80.5 million).
In the past year, according to Destatis, the number of immigrants who came to Germany once again much exceeded the number of emigrants. Thus, in 2011 the number of arrivals in the country at 279,000 exceeded the number who left her, and in 2012 - 369 thousand. According to preliminary estimates, in 2013 the figure was 400,000 people.
The birth rate in Germany in 2013 was still at a low level. The number of infants ranged from 675 to 695,000, while deaths - from 885 to 905 thousand.
Since 2008, when the country's economic crisis broke out, Spain has left a total of about half a million people, most of them - young people aged 25 to 35 years. Only in Germany in 2012 left almost 30,000 Spaniards, last year this figure rose even more.

/AzerTAc/