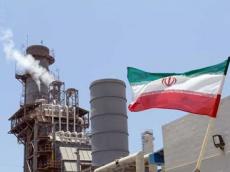 Iran has suspended gas supply to some government offices in last two days, Mehr news agency reported on Jan. 3.
Gas supply to industry has also been limited, while domestic gas consumption has reached a critical level due to the severe cold season.
The country's domestic and commercial units` total gas consumption surpassed 482 million cubic meters per day in recent days which is a new record during the current solar year (started on March 21).
Supplying gas to power plants has been stopped and the country's main industries including steel, cement and petrochemical industries have faced gas shortages and in particular in Tehran, as well as the northern and western provinces.
The gas supply to some CNG (Compressed Natural Gas) stations was also suspended due to shortages and low pressure.
On Jan. 1, spokesman for the National Iranian Gas Company (NIGC) Majid Boujarzadeh said that 50 percent of the CNG stations in Tehran were closed due to shortages.
Earlier Iranian Deputy Oil Minister Hamidreza Araqi urged households to economise on consumption of natural gas.
"If consumption is not limited, gas supplies to power plants, industrial units and households will be reduced," Araqi said, the Mehr News Agency reported on Dec. 13.
Iranian Oil Minister Bijan Namdar Zanganeh said on Nov. 29 that the coming winter will be the hardest in the country's history in terms of gas shortage.
The Mehr News Agency previously reported that based on data collected by Iran's Oil Ministry, the country needs over 700 million cubic meters of gas per day in the coming winter.
According to this report released in March 2013, overall Iran's natural gas consumption is expected to grow around seven percent annually for the next decade.
Iran has 33.6 trillion cubic meters of gas reserves.

/Trend/