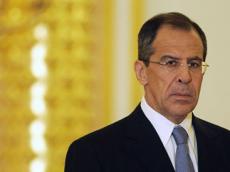 Russian Foreign Minister Sergei Lavrov reiterated progress in talks between Iran and the International Atomic Energy Agency (IAEA) regarding Iran's nuclear program, IRNA reported.
"In may talks with the Greek Foreign Minister Ivanjelus Venizlous we talked about the outlook of settlement of Iran's nuclear program by considering recent achievements in this regard," the Russian foreign minister said after his recent meeting with the Greek foreign minister.
Lavrov voiced optimism about the trend of settling differences on Iran's nuclear program.
Iran and the IAEA have held new round of talks for removal of the remaining issues on Iran's nuclear activities.
Iranian Deputy Foreign Minister Seyyed Abbas Araqchi and IAEA director general Yukio Amano presided over the sessions.
The Iranian delegation submitted Iran's proposal for settling the remaining issues.

/Trend/