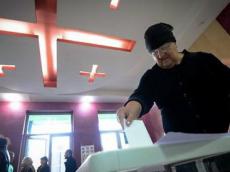 International observers recognized the presidential election In Georgia as free and competitive, representatives of missions from OSCE PA, PACE, NATO PA and the European Parliament stated at the joint briefing on Monday.
According to the coordinator of OSCE delegation Joao Soares, international observers held both long-term and short-term monitoring of Georgian presidential election.
"This was a free and fair election, and we were surprised by Georgia's transformation in recent years," he said.
The representatives of OSCE PA, NATO and the Council of Europe stressed that the progress in Georgia is very noticeable and the October 27 election was relevant to international and European standards.
"This was a real European election," Member of the European Parliament Krzysztof Lisek said.
According to him, the election was held calmly as distinct from the parliamentary election in 2012, however, the movement towards democratic elections was mentioned namely then.
Lisek thanked Georgian president Mikheil Saakashvili on behalf of the European Parliament for that he managed to arrange the transfer of power to another political force peacefully.
The Georgian presidential election was held on October 27.
After the counting of votes in 3376 out of 3741 polling stations (90.99 per cent) the candidate from the ruling coalition Georgian Dream Party, Giorgi Margvelashvili continues to lead in the Georgian presidential election.
Margvelashvili gathered 62.09 per cent of the votes in these polling stations, CEC head Tamar Zhvania said at a briefing on Monday.
According to the preliminary CEC data, the candidate from the pro-presidential United National Movement Party David Barkadze ranks second with 21.9 per cent of votes, followed by Nino Burjanadze (Democratic Movement - United Georgia) - 10.06 per cent of votes; Shalva Natelashvili (Labour Party of Georgia) - 2.88 per cent; Georgi Targamadze (Christian-Democratic Movement) - 1.05 per cent; Zurab Kharatishvili (European Democrats of Georgia) - 0.22 per cent; Levan Chachua - 0.19 per cent; Nino Chanishvili - 0.14 per cent; Sergo Dzhavahidze (For a Fair Georgia) - 0.13 per cent; George Liluashvili - 0.12 per cent; Koba Davitashvili (Party of the People) - 0.58 per cent; Mamuka Melikishvili - 0.06 per cent; Mikheil Saluashvili - 0.08 per cent; Teimuraz Mzhavia - 0.08 per cent; Kartlos Garibashvili - 0.03 per cent; George Chikhladze - 0.05 per cent; Avtandil Margiani - 0.04 per cent; Nugzar Avaliani - 0.04 per cent; Tamaz Bibiluri - 0.04 per cent; Teimuraz Bobokhidze - 0.02 per cent; Nestan Kirtadze - 0.05 per cent; Akaki Asatiani - 0.01 per cent and Mamuka Chokhonelidze - 0.02 per cent.

/Trend/