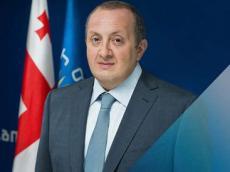 The inauguration of the newly elected Georgian president Giorgi Margvelashvili will take place on November 17. According to the Georgian Constitution, the inauguration of new president must take place after three weeks after election.
The ruling party "Georgian Dream" said on Monday that the inauguration ceremony will take place in accordance with the country's legislation. The place of the inauguration ceremony hasn't been declared yet; the Georgian government said that the inauguration will not be pompous.
Georgian presidential election was held on October 27.
After the counting of votes in 3,376 of 3,741 polling stations (90.99 per cent) the candidate from the ruling coalition "Georgian Dream", Giorgi Margvelashvili continues to lead in Georgian presidential election.
Margvelashvili gathered 62.09 per cent of votes in these polling stations, CEC head Tamar Zhvania said at the briefing on Monday.
According to the preliminary CEC data, the candidate from the pro-presidential "United National Movement" party David Barkadze ranks second with 21.9 per cent of votes, followed by: Nino Burjanadze (Democratic Movement - United Georgia) - 10.06 per cent of votes; Shalva Natelashvili (Labour Party of Georgia) - 2.88 per cent; Georgi Targamadze (Christian-Democratic Movement) - 1.05 per cent; Zurab Kharatishvili (European Democrats of Georgia) - 0.22 per cent; Levan Chachua - 0.19 per cent; Nino Chanishvili - 0.14 per cent; Sergo Dzhavahidze (For a Fair Georgia) - 0.13 per cent; George Liluashvili - 0.12 per cent; Koba Davitashvili (Party of the People) - 0.58 per cent; Mamuka Melikishvili - 0.06 per cent; Mikheil Saluashvili - 0.08 per cent; Teimuraz Mzhavia - 0.08 per cent; Kartlos Garibashvili - 0.03 per cent; George Chikhladze - 0.05 per cent; Avtandil Margiani - 0.04 per cent; Nugzar Avaliani - 0.04 per cent; Tamaz Bibiluri - 0.04 per cent; Teimuraz Bobokhidze - 0.02 per cent; Nestan Kirtadze - 0.05 per cent; Akaki Asatiani - 0.01 per cent ; Mamuka Chokhonelidze - 0.02 per cent.

/Trend/