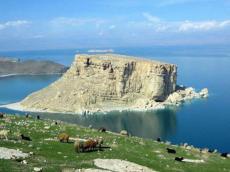 By AzerNews
The critical situation of Lake Urmia , namely its shoaling , still has not found a solution.
Deputy Head of the Iranian Chamber of Commerce, Industries, Mines and Agriculture (ICCIMA) Mohsen Jalalpour said that the Lake Urmia's revival and prevention of the dry up would cost some $200 billion, ISNA news agency reported.
Jalalpour said that all revenues from Lake Urmia hardly reached $2 billion.
Lake Urmia in northwest Iran is experiencing its worst drought condition for many years, where over 70 percent of its water has dried up. The level of the water has been declining since 1995.
Head of Iran's Environmental Protection Organization Masoumeh Ebtekar earlier said that the plans for reviving the Lake Urmia are almost specified.
Ebtekar said that the Organization does not agree with plans of transferring water from Caspian Sea or Aras River to Lake Urmia, saying these plans are unprofessional due to economic and environmental factors.
Iranian media outlets earlier quoted deputy Director of Iran's Water Resources Management Company, Yaqoub Hemmati, who said that water input to the catchments of the Lake Urmia has decreased by 46 percent compared to the long-term average value which indicates that reviving Lake Urmia is impossible.
Iranian President Hassan Rouhani has established a working group to tackle the issue of saving Lake Urmia.
Rohani also signed special instruction to suspend work on the construction of the dam around Lake Urmia.
The area of Lake Urmia is the third largest salt water lake on earth, which has 6,000 square kilometers surface. During the migrations of birds the lake becomes their temporary home. The lake's drying up has an impact on the flora and fauna of the region. Experts on environmental issues say that the measures taken by the Iranian government are not enough to save the lake.
The project on directing 600 million cubic meters of water from Araz River into Lake Urmia was launched during a visit by former Iranian President Mahmoud Ahmadinejad and government officials to Tabriz in 2010. Some $1.2 billion is to be allocated to implement the project.
The Iranian government allocated $900 million to prevent Lake Urmia's drying up in September 2011.
Also, the United Nations Environment Program (UNEP) has allocated $135 million to Iran to resolve environmental problems with shoaling of the lake.