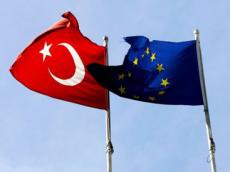 Turkey was set Tuesday to learn the fate of its bid for membership in the European Union, with ministers from the bloc expected to revive the stalled process, dpa reported.
Turkey has been seeking to become an EU member country for 26 years, but negotiations over its accession have been at a standstill for the last three - mostly due to Franco-German opposition and tensions with Cyprus.
In June, the EU finally agreed to open a new negotiating chapter with Ankara, but delayed the move amid concerns over a violent Turkish crackdown on anti-government protests.
"Our decision in the summer was not the closing of a door, but a signal. And this signal was heard and understood," German Foreign Minister Guido Westerwelle said Monday during talks with his EU counterparts in Luxembourg. "We should now take the next step."
EU Enlargement Commissioner Stefan Fule last week gave his blessing for Turkey to advance in its membership bid, as he presented a new progress report which expressed concern over the violent crackdown, but also praised Ankara for its reforms.
The bloc's ministers for European affairs will consider on Wednesday whether to reconfirm the decision to open Chapter 22, which covers regional policy. It would be the 14th negotiating chapter that Turkey opens out of 35. Only one has been provisionally closed.
Some officials have been calling for negotiations on the more controversial Chapters 23 and 24, covering issues of the judiciary, fundamental rights, freedom and security.
"It would make sense to also soon open the chapters on basic rights and justice so that it is clear that Turkey is moving in the direction of Europe," Austrian Foreign Minister Michael Spindelegger said Monday in Luxembourg.
"This is in our common interest," Westerwelle added. "It is the right decision for us Europeans and for Turkey."
Also on Tuesday, the ministers were due to prepare a summit that EU leaders will hold in Brussels at the end of the week, with the migrant deaths off the Italian coast expected to dominate the agenda.
/Trend/