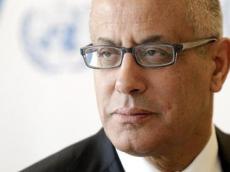 Armed men have kidnapped the Libyan prime minister, Ali Zeidan, from the hotel in Tripoli where he lives, according to reports.
Abu Dhabi-based Sky News Arabia quoted Libyan security sources as saying that Zeidan was seized from a hotel where he was staying in the Libyan capital and taken to an unknown destination. Dubai-based al-Arabiya carried a similar report.
According to CNN, armed rebels escorted Zeidan from the Corinthian Hotel in Tripol and took him away in a car. The news service quoted a hotel clerk as saying there was no gunfire and the gunmen "caused no trouble".
Zeidan's office initially denied the abduction on Facebook but later stated the denial was made at the order of the kidnappers.
"The head of the transitional government, Ali Zeidan, was taken to an unknown destination for unknown reasons," the government said on its website, attributing the kidnapping to a group of men believed to be former rebels.
The abduction early Thursday comes amid anger among Libya's powerful Islamic militant groups over the US special forces raid on Saturday that seized a Libyan al-Qaida suspect known as Abu Anas al-Libi. Several groups accused the government of colluding in or allowing the raid, though the government denied having any prior knowledge of the operation.
Hours before the abduction Zeidan had met with al-Libi's family, the Associated Press said.
/The Guardian/