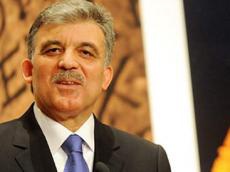 Top officials in Turkey, which is one of the countries most affected by the Syrian crisis, has been pushing hard for a tougher stance on the Syrian regime in talks in New York, where they are attending the UN General Assembly's 68th meeting with a delegation of high-level diplomats, Today's Zaman reported.
On his way to New York, Turkish President Abdullah Gul had made it clear that the conflict in Syria is the top item on Ankara's agenda for the UN General Assembly meeting, and it is considered the most important foreign policy and national security issue for Turkey.
On Tuesday Gul spoke at the UN Assembly, his most important topic being Syria and the UN's reticence to end the crisis in the war-torn country.
Gul said that a lack of action from the UN Security Council (UNSC) only emboldens aggressive regimes. "We need a UN capable of forcing the perpetrators of brutal actions to submit to justice and the rule of law. Decisive action is the only way that the UN system will remain relevant and credible. To face this new reality, we need a Security Council which is truly democratic, representative, effective and accountable," added Gul.
Gul held a meeting with UN Secretary-General Ban Ki-moon on Monday, in which he stressed the need for a political strategy to overcome the crisis in Syria.
During his talks, Gul also stepped up his criticisms of the UN's ineffectiveness, saying the world body has to take concrete action to avoid damaging its reputation any further.
"It is a disgrace that the UNSC has failed to uphold its primary responsibility in this case. It is deeply regrettable that political differences, balance-of-power politics and geopolitical considerations have prevailed over the imperative to end this tragedy," said Gul.
Previously, Gul noted that the UN's stature has lessened in the eyes of the people and the credibility of the world body has dropped. Gul recently urged the UNSC to listen to Turkey, one of the countries that is most affected by the Syrian crisis, very carefully.
Turkey is frustrated by the stalemate in the 15-nation UNSC, where permanent members Russia and China have blocked attempts to pass a resolution criticizing the Syrian regime for the bloodshed in the country.
Gul also maintained that the problem in Syria was not only about chemical weapons, and that a comprehensive political strategy must be found to put an end to the crisis. "There has to be a sound strategy with well-defined and well-calculated objectives for a peaceful solution," he said.
"Were it not for the use of chemical weapons, would the international community have continued to turn a blind eye to the deaths of more than 100,000 people? For how long can we afford to evade our moral responsibility to the people being killed even as we speak? This conflict neither began with the use of chemical weapons, nor will it end with an agreement to eliminate them," maintained Gul, adding that such an approach ignoring the killing of people is immoral and totally unacceptable.
Gul also stated that he considers the US-Russian deal to destroy Syria's chemical weapons to be a useful opportunity.
Russia and the US put aside their differences and announced an agreement under which Syrian President Bashar al-Assad will account for Syria's secret chemical weapons stockpile and permit international inspectors to destroy it by mid-2014.
"I hope it will be a first step in the formation of a security architecture to ensure the elimination of all weapons of mass destruction in the Middle East," said Gul, although he added that the deal must not allow the regime to avoid responsibility for its other crimes.
The Turkish president also noted that the Syrian crisis has evolved into a real threat to regional peace and security, adding that any recurrence of the proxy wars of the Cold War era would plunge Syria into further chaos.
"Once extremist groups take root in a state, they form autonomous structures and become a real threat to security, not only at home but also abroad. We must be aware of this threat and realize that with each day we lose in indecision, the more remote the prospects for a peaceful Syria become," said Gul.
In the wake of an al-Qaeda affiliated group's seizure of a town near the Turkish-Syrian border, Gul recently said the country had taken all the necessary measures against such terrorism.
Gul also blamed international inaction on Syria for the rise of extremists. "There were no extremists in Syria. If things are left on their own in Syria, people will become extremists first, then radicals and then terrorists. We should have been much stronger in our reaction ... at the very beginning, but this was not done," he said in an interview with The Washington Post.
"If things go on the way they have been going, then in six months or a year from now, we will see the emergence of very well-established, well-structured groups with quite high numbers of people involved, and it will be very difficult to disperse them. Those who allow this to happen will have a burden of responsibility in terms of what happens in Syria."
He, however, declined to point a finger at any country when asked if he blamed the US.
Meanwhile, Foreign Minister Ahmet Davutoglu, who came to New York with Gul, drew attention to the rise of extremist groups in Syria, saying the number of al-Qaeda terrorists is at risk of increasing next year.
Speaking to TRT Haber, Davutoglu noted that due to a failure to take measures previously, there is now a power vacuum in the war-torn country.
"If Assad left power two years ago, today there would not be al-Qaeda in Syria. This year there is a much larger group. Next year there is a risk of it growing larger. As long as this continues, the risk increases. Assad being in power is not a precondition for the stability of Syria, rather it is a handicap," said Davutoglu.
Al-Qaeda and other radical groups have started to play an increasingly prominent role in the current power vacuum in Syria, aiming to transform the country into a proxy battlefield as the revolt against the Assad regime escalates.
Turkey, which has been a staunch supporter of the Syrian opposition fighting to topple Assad, is accused of providing logistical support to al-Qaeda-linked groups. However, Ankara has made its position clear, saying it is not taking any part in the ongoing fighting.
Davutoglu noted that there was not sufficient data for optimism over Syria.
"The situation is really tragic. Therefore, we have no enough data in hand to be optimistic at the moment. We are making great efforts. But we have concerns as the international community has failed to pass the test in Syria so far," said Davutoglu.
If elected, Turkey will bring an independent voice to UNSC, says Gul
The Syrian issue aside, Turkey conducted lobbying for its UNSC candidacy in the 2015-2016 term during meetings at the UN.
Speaking at the UN Assembly meeting, Gul noted that Turkey is a candidate for a non-permanent member seat of the UNSC in the term of 2015-2016, saying that: "If elected, Turkey will bring an independent voice to the Security Council, one that listens to all and tries to find comprehensive and lasting solutions through dialogue."
Davutoglu also has a busy schedule for the UNSC candidacy. As part of this lobbying activity, Davutoglu separately met with the foreign ministers of Barbados and Trinidad and Tobago.
Apart from the UNSC lobbying, Davutoglu had important bilateral talks with other foreign counterparts, including US Secretary of State John Kerry, Greek Foreign Minister Evangelos Venizelos, Jordanian Foreign Minister Nasser Judeh, and the foreign ministers of Kosovo and Malta.
Davutoglu denies Turkey's isolation, says it is a myth
The Turkish foreign minister also denied claims that Turkey is isolated by its foreign policy choices, saying that these are only a myth created by some circles.
"Both in Turkey and abroad, there were some circles that tried to create this myth. Many foreign ministers are lining up to talk with me at the UN. What kind of isolation is this? The ones that created such a myth aimed to shake the paradigm that Turkish foreign policy has gained in recent years. Some are trying to create this kind of perception. Some may want to push Turkey out of some processes. When you become a big country, you are not only appreciated," said Davutoglu.


/Trend/