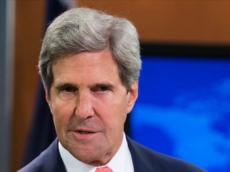 US Secretary of State John Kerry called Thursday for the UN Security Council to act decisively next week on efforts to remove the Syrian government's chemical weapons stockpile, dpa reported.
Kerry pointed to a UN report on an August 21 chemical weapons attack in Syria that he said showed that the Damascus regime was behind the atrocity and dismissed as implausible claims that the Syrian opposition was responsible for the incident.
Although the UN report was not tasked with assessing blame for the attack, Kerry said "anybody who reads the facts and puts the dots together ... understands what those facts mean."
"Time is short. Let's not spend time debating what we already know," Kerry said, calling on the council to pass an agreement to implement a US-Russian deal to remove the Syrian governments chemical weapons.


/Trend/