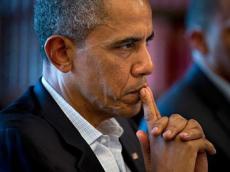 U.S. President Barack Obama said Aug. 31 he had decided he would go ahead and launch military action on Syria but he believed it was important for American democracy to win the support of lawmakers.
Obama said the U.S. is ready to strike when it chooses, stressing that the operation will be limited in scope. He said strikes "will be effective tomorrow, next week or one month from now."
However, the decision to consult the Congress likely delays U.S. action for at least 10 days.
Shortly after Obama's statements, House Speaker Boehner said U.S. Congress will debate Syria strike the week of September 9 as soon as lawmakers return from recess.
Obama said that the United States cannot turn "blind eye" to what is currently happening in Syria, describing the chemical weapons attack in the outskirts of Damascus as the worst of the 21st century.
Obama said the U.S. had presented a "powerful case" linking the Syrian government to the reported chemical weapons attack in the Damascus suburbs on Aug. 21.
"This attack is an assault on human dignity. It also presents a serious danger to our national security. It risks making a mockery of the global prohibition on the use of chemical weapons," Obama said during a statement at the White House in Washington.


/HurriyetDailynews.Com/