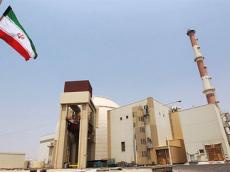 Source:
/AzerNews/
The Iranian Foreign Ministry spokesman has said Tehran will take full operational control of the Bushehr nuclear power plant from Russia in the next few weeks, Fars new agency reported.
Seyed Abbas Araqchi noted on August 20 that Bushehr Nuclear Power Plant is in final test stages and if everything goes well the plant will be ready for inauguration and handing over to Iran in the next few weeks.
Araqchi reminded that from the time the power plant is complete to its delivery it has to undergo different tests which take time.
He said that the full control of the Bushehr nuclear power plant will be granted to Iran a few weeks later.
Recently, Russian Ambassador to Iran Levan Dzhagaryan said Moscow is ready to increase its nuclear cooperation with Tehran even after Iran takes full control of the Russian-built Bushehr plant.
He said that Russia is prepared to offer Iran further assistance on the use of peaceful nuclear energy following the handover of the nuclear facility to the Iranian side.
Dzhagaryan noted that a risk-free startup of the first phase of the Bushehr power plant is Moscow's foremost priority.
In remarks earlier this month, head of the Russian State Nuclear Energy Corporation Sergey Kiriyenko said that his company is ready to transfer the full operational control of Iran's Bushehr plant to the Iranian Atomic Energy Organization (IAEO).
"The state company (Rosatom) will soon sign the documents to transfer the full operational control of the Bushehr nuclear power plant to Iran," Kiriyenko said.
The Russian official underlined that the Bushehr plant is currently operating at 100-percent capacity and the process of preparing it for transfer to the project originator (Iran) is concluding.
Rosatom's construction arm, Atomstroyeksport, took over construction of the Bushehr plant after a German company pulled out of the project after the victory of the 1979 Islamic Revolution in Iran.
Iran signed the Bushehr contract with Russia in 1995 and the nuclear power plant reached its full capacity by August 2012.
Bushehr nuclear power plant officially became operational in September 2011, generating electricity at 40 percent of its capacity.
The 1,000-megawatt plant, which is operating under the full supervision of the IAEA, reached its maximum power generation capacity in August 2012.
Iran and Russia have assured the international community that the plant is fully compliant with high-level safety standards and the International Atomic Energy Agency (IAEA) safeguards.
The U.S. and some of its Western allies suspect Iran of developing a nuclear weapon -- something that Iran denies. However, Iran has on numerous occasions stated that it is not seeking to develop nuclear weapons, using nuclear energy for medical researches instead.