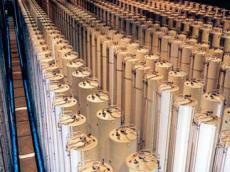 Iran's ex-head of Atomic Energy Organization Fereydoun Abbasi said that the country owns some 18,000 centrifuges and 10,000 of them are currently operating.
He said that some 17,000 of centrifuges are of an older generation, IR-1 model, while about 1,000 centrifuges belong to a domestic new model which is ready to be inaugurated.
He noted that about 7,000 of the first generation centrifuges are also ready to be inaugurated.
About 700 centrifuges in Natanz and Fordow sites are enriching uranium by 20 percent, while some 9000 centrifuges are working in Natanz with less than 5 percent uranium enrichment.
Earlier in June, the International Atomic Energy Agency's director Yukiya Amano said Iran was violating the resolutions by increasing the number of centrifuges and volume of enriched uranium.
On Feb. 14, Iran announced that it has installed new, 5th generation centrifuges at Natanz nuclear research facility. Earlier, on Feb. 6 Iran announced that the country has successfully manufactured a tubular centrifuge, because of the imposed sanctions and restrictions.
The West, led by the United States, has imposed sanctions against Iran, accusing Tehran of pursuing military objectives in its nuclear energy program.
Iran has repeatedly dismissed the Western allegations, arguing that as a signatory to the nuclear Non-Proliferation Treaty and a member of the International Atomic Energy Agency (IAEA), it has every right to pursue nuclear technology for peaceful purposes.
/ISNA/