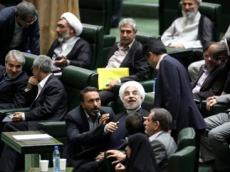 Source:
/AzerNews/
The Iranian parliament has concluded a vote of confidence on President Hassan Rouhani's cabinet nominees, Press TV reported.
After four days of debates about the qualification of the ministerial nominees, on August 15, the 284 members (from 290 MPs) of parliament approved 15 ministers nominated by Rouhani for his cabinet.
President Rouhani submitted the list of his Cabinet nominees during his swearing-in ceremony in Majlis on August 4.
The MPs have been reviewing the qualifications of the nominees since August 12.
During the debates in the parliament, Rouhani has defended his proposed Cabinet lineup, stressing that the individuals nominated for ministerial posts have been picked after long consultations and consideration of all relevant issues.
Addressing the Majlis ahead of a vote of confidence for his proposed Cabinet on August 15, Rouhani said the ministerial nominees have a long experience of serving the interests of the country over the past three decades.
Urging the MPs to promote tolerance and moderation in the country, Rouhani called on the lawmakers to back his nominees by voting for them.
However, while the MPs approved 15 nominees, three of them couldn't get the vote in the parliament. The nominees for the Ministry of Education, the Ministry of Science, Research and Technology, as well as the Ministry of Sports and Youth failed to receive a vote of confidence from the lawmakers.
Rouhani will have up to three months to name a replacement of the nominees who failed to win a vote of confidence.
Some experts say that debate over the qualification of the ministerial nominees in the parliament demonstrates the democratic elements of Iran's political system.
Iran's parliament speaker Ali Larijani said after the conclusion of four days of debate that the heated and solemn parliamentary debates on the credentials of proposed ministers proved the democratic nature of the political system in Iran.
Larijani pointed out that the legislators raised decisive issues for the country with meticulousness, seriousness and transparency.
"Such discussions in parliament are proof of the high position of democracy in Iran and show the three branches of government are independent from each other," the speaker said.
However, Larijani said, the lawmakers showed utmost cooperation with the new administration during the debates, which he hoped would prove "fruitful and effective" for the new Cabinet.
He also added that the parliamentarians would like to see the new Cabinet begin work as soon as possible.