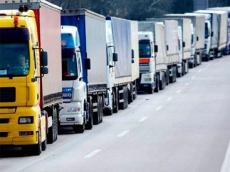 Source:
/AzerNews/
Georgia and Russia resumed international automobile communication. The Georgian Economy and Sustainable Development Ministry reported that the relevant decision was made at the meeting with representatives of the Russian Transport Ministry held in Moscow on August 6-7.
"The visit was aimed to resume the international cargo and passenger automobile communication between the countries according to need," the statement reads.
The Georgian side raised the issue of the visa regime simplification for Georgian drivers and the Russian side agreed to solve this matter favorably in the near future.
At this stage the sides exchanged 500 units of permits for transport of goods in 2013, which will give the opportunity to Georgia to transport cargos in the direction of Russia. In addition, the sides agreed to exchange permits for the transport of goods to a third country.
The resumption of regular bus service between the cities of Russia and Georgia, which had been interrupted since 2006, was also agreed at the meeting.
Georgia and Russia, its giant northern neighbor, have maintained no diplomatic relations since a brief war in 2008. Tbilisi broke off relations with Moscow in August 2008 when Moscow crushed a Georgian assault to reassert control over two rebel regions -- South Ossetia and Abkhazia -- and later recognized the regions. Georgia announced the two unrecognized republics as occupied territories in September 2008.
Ground transportation between Russia and Georgia has also been interrupted and the visa regime between two countries was introduced in 2006. However, in accordance with the Decree of the President of Georgia the visa regime with Russia was canceled unilaterally on February 29, 2012. According to the decree, the Russians can enter the territory of Georgia without visa and reside in the country for 90 days.