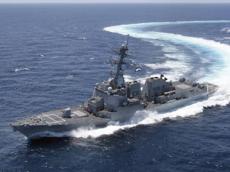 Iran plans to manufacture a new, ultra heavy destroyer next Iranian calendar, deputy director of Iranian Ministry of Defense' Industrial Research department, Mohammad Eslami said, speaking on Iranian tv channel, Tasnim News Agency reported.
"We've already started to design the overall look of the destroyer, and the work in this area continues to speed up," he said.
He further spoke of country's other achievements, namely noting that Iran next year plans to manufacture country's first 500-ton submarine, and release it on water by the end of 2013.
Eslami also said that Iran has recently completed manufacturing of "Jamaran 2" destroyers, which have new propulsion system, an improved combat management system, and better navigation systems over its predecessor.
"The manufacturing of Jamaran 2 cost $75 million to make, and we plan to export these to neighboring countries, using our right to promote the domestic production," Eslami said.
He also noted that on the agenda there are plans to manufacture "Jamaran 3" and "Jamaran 4" destroyers.
"We hope to make Jamaran 3 by the end of 2013, and Jamaran 4 by the end of 2014," Eslami underscored.
Iran released "Jamaran 2" destroyer on the Caspian Sea waters this Sunday, at a ceremony attended by country's top military officials, as well as country's president Mahmoud Ahmadinejad.

/Trend/