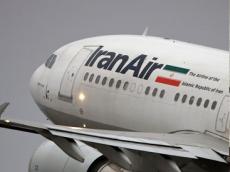 Iran has added two Airbus 340 planes, three Fokker 100 planes, and two other planes of different model to its national air fleet, the Mehr News agency quoted Iranian Civil Aviation Organization head Hamidreza Pahlavani as saying.
He added that currently 18 airlines are in operation in Iran.
In April 2012, the Fars News Agency reported that Iran plans to increase the number of aircraft and replace 25 outdated planes with new ones.
The Civil Aviation Organization will remove 25 planes with over 30 years of service from the fleet, most of which are Boeing 707 and Boeing 727 models, according to the report.
In February, the Fars News agency quoted the head of the association of Iranian airlines, Abdolreza Mousavi, as saying taht Iranian airlines are unable to pay off their fuel debts to the Oil Ministry due to their bad financial situation.
With the rising foreign currency exchange rates and the rising fuel prices, the goal of expanding passenger seats will never be realized, he added.
Many airplanes of the national fleet have been grounded due to financial problems, he said, adding that spare parts and components are purchased from second-hand sources with great difficulties.

/Trend/