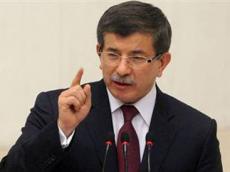 Turkey is against creating nuclear weapons by any country, Anadolu agency quotes Turkish Foreign Minister Ahmet Davutoglu as saying on Wednesday.
According to Davutoglu, at the same time Turkey supports creating nuclear technology that will be used for peaceful purposes.
"Turkey supports creating of nuclear technology by Iran which will be used for peaceful purposes under the terms of the IAEA," Davutoglu said.
The U.S.and other Western countries and Israel suspect Iran of developing nuclear weapons under the guise of a peaceful nuclear energy programme. Tehran denies the charges saying its nuclear programme is for civilian purposes.

/Trend/