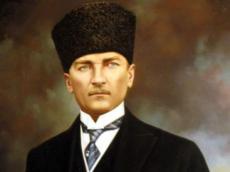 Turkey's General Staff recently launched a website containing details of the life of modern Turkey's founder Mustafa Kemal Atatürk.
The website gives information on Atatürk's physical appearance as well, stating his height as 5 feet 7 inches (1.74 meters), as opposed to previous reports that claimed his height was 5 feet 5 inches (1.68 meters).
His weight was recorded as falling between 163.1 pounds (74 kilograms) and 167.5 pounds (76 kilograms) and he was wearing size 42 shoes, according to the website.
/HurriyetDailynews/